Life Water Ionizers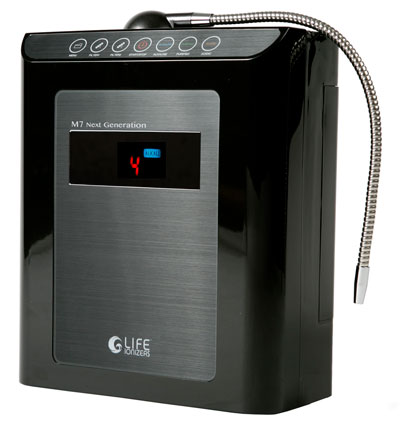 We firmly believe in the benefits of drinking alkalized water. However, the problem with most water alkalizers is their primitive filtration, making it necessary to have a separate water filter. Life Ionizers combine alkalization with a solid filtration system. What also makes this brand unique is
filter customization at no extra cost.
Life Ionizers will obtain your municipality's water report, analyze it and provide you with a FREE pre-filter that addresses your particular water quality problems. (The pre-filter is a cylinder that can be placed on the counter next to the unit, or installed under the sink. It is separate from the two filters that are located inside the unit. A plumber may be needed for installation.)
Ionizers, as their name implies, generate negative ions. Just as negative ionizers neutralize pollutants in the air, these ions in water neutralize free radicals, which contribute to aging and disease. Ionizers also create microclustered water, breaking down the water into smaller molecules, which increases its absorption into your body. Water ionizers make both alkaline and acid water. Use the alkaline water for drinking, cooking and watering plants, and the acidic water for cleaning skin and hair, soothing cuts, easing fungal conditions such as athlete's foot, and rinsing your pet's coat for a lustrous sheen.
Life Ionizers makes four models; all have the following features:

Multiple pH levels (up to 12.0 depending on original water source)

Digital display indicates mode (acid, alkaline or purify), pH level, cleaning cycle and filter life

Automatic cleaning

Heat sensor to prevent overheating

Platinum-coated titanium plates for superior functioning (units with more plates have a higher water flow and make stronger acidic water)

SMPS, a power source that replaces the old-fashioned transformer. SMPS is the same high-tech electrical system that powers high-definition television. This system produces better quality water and extends system life.

Built-in filters with granular activated carbon and patented Vitamin C ceramic-block technology to remove chlorine, chloramines, chemicals, sediment and pesticides. (Filter Replacement: approximately 8 months for the first filter and 12 months for the second filter, based on usage of 2.5 gallons per day.)
Adjustable power consumption; using a higher wattage increases water output (up to 3 liters, or .79 gallon, per minute)
Model 5100 MiniMax, Countertop (Economy Model)
Nine settings: four alkaline, four acidic, and purification-only
pH output up to 10.0+ depending on water source
Five platinum-coated titanium plates
Size: 16"W x 7"H x 8 3/4"D
7-year warranty
Available in black or white
MAX Series Models
The new "Next Generation" Max Series with MaxYield Power System,
featuring larger plates and higher ORP (oxidation reduction potential) for maximum antioxidant power. This series has three models, all with these extra features:
Larger, ultra-efficient electrolysis chambers
Large LCD display and large, easy-access controls at top of unit
Available either as a convertible unit (buy as a countertop with the option of converting it later to an under-counter; faucet is purchased separately when making the conversion) or an under-counter unit. State-of-the-art nickel faucet uses built-in digital controls.
Eight settings: four alkaline, three acidic, and purification-only
Optional upgrades: laser energy technology, mesh plates, energy frequency technology, and UV light (see upgrade information at bottom of page for descriptions).
Compact size: 13"W x 13 3/4"H x 6"D
Choose from black with graphite accents (pictured above) or silver with black accents.

Model M7
Seven platinum-coated titanium plates
pH output from 2.5 up to 11.0, depending on water source
Lifetime warranty on parts, 10 years on labor

Model M9
Nine platinum-coated titanium plates
pH output up to 11.5, depending on water source
Lifetime warranty on parts and labor

Model M11
Life Ionizers' most powerful unit with highest ORP (-880) and highest wattage adjustment
Eleven platinum-coated titanium plates
pH output from 2.0 up to 12.0, depending on water source
MAX Super Cooling System to prevent overheating
Lifetime warranty on parts and labor

Options
Ultraviolet Light: Thoroughly removes viruses, parasites and bacteria with an ultraviolet bulb.
Mesh Plates: These replace the standard flat plates (electrodes). Mesh plates allow for more efficient electrolysis, creating even more potent ionized water. Antioxidant power increases by 10 to 15 percent.
Energy Frequency Technology: Energizes water with 205 frequencies.
Laser Frequency Technology: Uses a bio-resonant laser to program the water with healing frequencies (scalar energy). The charged water transfers that energy to cells in the body. Clinical testing of unhealthy cells revealed that they have a very low energy level, about 15 - 20 millivolts. After treatment with scalar energy, the cells reached a 70 - 90 millivolts energy level, which is the normal range for healthy cells.
Customer Reviews