Energy Stone Shower Filter
# W ESS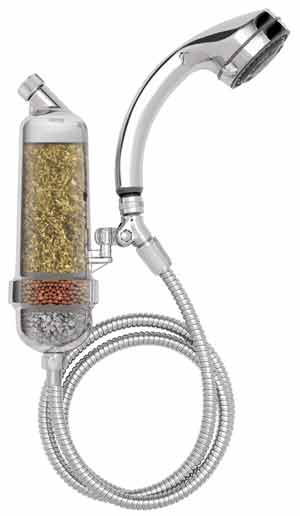 The ultimate in energized shower water, the Energy Stone Shower Filter uses a unique volcanic mineral stone from Japan, as well as ceramics, to energize the water. Ferrite ceramics reduce water's surface tension, producing H2O that is softer on the skin. The Super Growth Energy (SGE) Stone and far-infrared ceramics combine infrared energy and negative ions for an additional softening effect on hard water, and a more energized and refreshing shower. You'll get more suds from your soap and shampoo! The SGE stone and ceramics also have natural antibacterial properties that help skin conditions such as dermatitis.
For filtration,
KDF media
reduces chlorine and heavy metals, while the particle disc prevents sediment from entering the filter. Both discs can be cleaned, and the micron disc can be replaced. Hand-held design, five adjustable spray settings, polished chrome finish. Change filter every 12 to 15 months.
Note:
Photo shows interior layers; actual unit is not transparent.
Click here for photo of installed unit.
Click here for Energy Stone Shower refill cartridge.
Customer Reviews