HealthPoint "Electro-Acupuncture"
# M ACCUP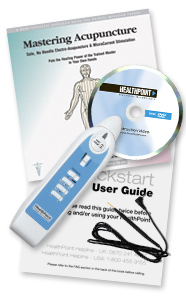 This "acupuncture without needles" device was created by world-famous British physician and acupuncture teacher Julian Kenyon, MD. It combines a treatment unit with a detection device to find the correct point, which is stimulated by mild electronic pulses--all at the touch of a button. Also great for pain relief and tense muscles. Package includes extension probe,
ear clips for auricular stimulation
(useful for overcoming addictions such as smoking),
cotton bud attachment for use in eye area
, illustrated manual and 40-minute DVD that teaches you to find the points. Operates on 9-volt battery (included).
Read more about electro-acupuncture here.
Customer Reviews