Aquaspace Carafe
# W CA-100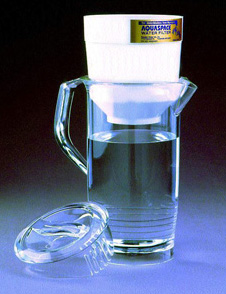 The Aquaspace carafe is ideal for the office, for those who want to try the filter before buying a larger unit, and for those who donít have room for a kitchen filter. The patented Aquaspace media reduces chlorine, chemicals, bad taste, dirt and sediment. Available with several options, including fluoride removal and alkalizing cartridge (increases pH up to 9.0, depending on water source). This unit gives you the utmost in flexibility: If you move from a non-fluoridated area to a fluoridated area; or if you want to try the alkalizing filter, all you have to do is change the cartridge!
Standard filter lasts for 500 gallons, or one year; filter with fluoride removal or alkalizing media lasts for 250 gallons or 6 months; filter with all three media (regular filtration, fluoride removal, and alkalization media) lasts 125 gallons or three months. Clear polycarbonate carafe holds 60 ounces (almost a half-gallon).
Click here for replacement cartridges.
Customer Reviews